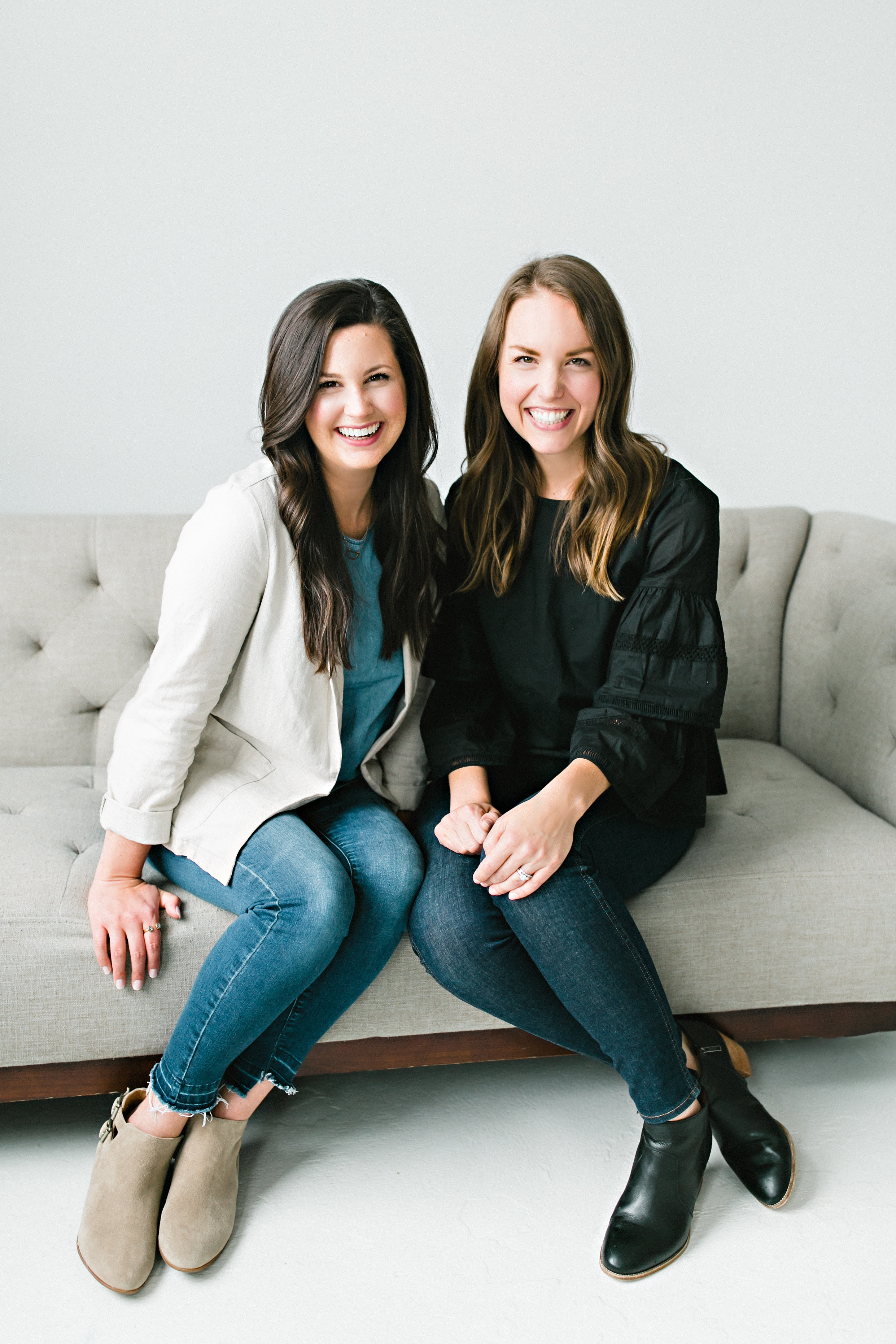 ep. 97 | Perfectionism with Laura Wifler and Emily Jensen
On today's episode of the Journeywomen podcast, I'm chatting with my friends Laura Wifler and Emily Jensen about perfectionism. If you know Laura and Emily of the Risen Motherhood podcast, it's no surprise that this conversation really helped me apply the realities of the gospel to my performance-oriented, perfectionistic self.
So you'll know them a little better, Emily Jensen and Laura Wifler are the co-founders of the Risen Motherhood ministry, and co-hosts of the weekly podcast. As sisters-in-law, Emily and Laura both live in central Iowa with their families. Their first co-written book, Risen Motherhood, releases September 3rd and is available anywhere books are sold and we highly recommend checking it out!
Can you tell us a little about who you are and what you do?

Many people are aware of the fact that they wrestle with the pressure to get it all right, while others might be thinking they don't really struggle with perfectionism. Where have you seen perfectionism rear its head in your own lives? Where might others see it in theirs?

How do the messages we receive from secular culture perpetuate perfectionism? How about Christian culture? Is our desire for things to be perfect entirely bad?

How does the gospel redeem our perfectionism? How does it transform our imperfect work?

What do you do when you find yourself resting in your own performance instead of the perfect work of Christ?

How does finding our identity in Christ enable us to actually reflect his perfect love?

What do you think Jesus was getting at in Matthew 5 when he said in the Sermon on the Mount, "You therefore must be perfect as your Heavenly Father is perfect?"

How can we gain a greater ability to see God and our own lives through the framework of the gospel? How can we filter our world through the gospel?

How can we nurture and grow in our love for the message of the gospel? How can we grow in our ability to connect it to our everyday moments in which we find ourselves wanting to perform?

How does the gospel bring rest to our drive for perfectionism? How can we find joy, even in our imperfect work?
THREE QUESTIONS I ASK EVERY SECOND-TIME GUEST
What 3 resources would you recommend?

What piece of advice would you give your 25-year-old self?

What is something you're looking forward to in your journey with Jesus?
NOTEWORTHY QUOTES
"When I think about perfectionism as the desire to always be enough or do enough or perform enough - this desire to do really well in order to achieve my own value or my own worth - then in pretty much every stretch of the word, I am acting like a perfectionistic because I fall into that trap all the time. "
"Performance based: finding value in how much you do or get done; a way to attain value through my own efforts."
"Even a disengagement or a disgust with a lack of progress in life can be a by-product of perfectionism."
"Culture sends us mixed messages:
'I am perfect when I _____.' (typical perfectionism)

'I am perfect just the way I am.' (has a disregard for God's design | moral relativism)

'You don't need to be perfect.' "
"It's not always bad to desire perfection. One of our goals as believers on earth is to be transformed more into Christlikeness, recognizing that we still have limitations."
"When we look at who is going to restore our relationship with God, it is Jesus. We look to him."
"When we stop trusting in ourselves and trust in Jesus, all the perfect righteousness that he is, is transferred onto us."
"From redemption, we get to rest in his perfection. It's not on our effort. It's all on him."
"When I step back and I think deeply about, 'what am I worried about or why am I trying to be performance based and living in that way right now?' I realize that I am depending on my own effort and for my own self-glory. I am trying to do it so I look good in front of others. The first thing is to take intentional, physical rest."
"The biggest thing to remind my heart of what my mind knows is to stop and rest - to take a minute to remember that I am not the answer to everyone's problems."
"When we haven't trusted in the reality that Christ is perfect on our behalf, we will be obsessed with making ourselves perfect."
"When I'm trusting in myself, my heart is much more unpredictable and much more volatile."
"When we root our identity in Christ, our responses [to others] become a lot more steady because our hearts are not wandering through a lot of unfulfilled desires or hopes for our own efforts or perfection. We can truly be patient when others fail us. We can really trust God even when we're not sure how things will be sorted out. We can display imperfectly Jesus' perfect love for others."
"Jesus isn't asking us to be perfect, he knows full well that we cannot be perfect. But in him we are made righteous before a perfectly holy God. Righteousness is being morally right - free from all sin and guilt, perfection. Jesus was willing to die in our place so that we can be next to God, so we can perfect as our Father is perfect."
"Jesus makes the impossible, possible."
"Creation, Fall, Redemption, and Consummation:
Creation: What was God's original design?

Fall: How does sin and brokenness impact whatever I'm facing?

Redemption: How does Jesus restore relationship with him and how does that impact the way we can act and respond in situations?

Consummation: When Christ returns and makes the new heavens and the new earth, what happens then and how is this a hope for me? How can I look to the future and how does that change the way I can live with hope today?"
"It's not about controlling your outside circumstances, but you can control your heart and how you respond to things."
"We never outgrow needing to depend on God and ask for wisdom and study on the Word."
"Do what God has given you to do today with faithfulness."
"God is going to show up in hard things for you."
"There is always grace that awaits you."
RESOURCES
Gospel Fluency by Jeff Vanderstelt
A Gospel Primer by Milton Vincent
Risen Motherhood by Emily Jensen & Laura Wifler
SCRIPTURE REFERENCES
CONNECT WITH RISEN MOTHERHOOD
DISCUSSION QUESTIONS
What are some areas in your life where you don't feel like you are enough?

Read 1 Peter 1:15-25. What do we learn about Jesus from this passage?

How does the gospel redeem our perfectionism?

Discuss the four parts of the gospel: Creation, Fall, Redemption, and Consummation.

What are some areas you could grow in your ability to connect the gospel to the everyday moments in which you find yourself wanting to perform?

What are you going to do or implement as a result of what you've learned this week?
SCRIPTURE MEMORY
"Now to him who is able to keep you from stumbling and to present you blameless before the presence of his glory with great joy, to the only God, our Savior, through Jesus Christ our Lord, be glory, majesty, dominion, and authority, before all time and now and forever. Amen." Jude 24-25
SPONSORSHIP DETAILS
Crossway has the best-selling book Women of the Word by Jen Wilkin which challenges you to go deeper in your study of Scripture with a clear plan you can use every time you open your Bible. The second edition includes new study questions with each chapter, perfect for small groups to go through together. Learn more and find other resources at crossway.org/journeywomen5/.
Prep Dish is a healthy subscription-based meal planning service that helps you save time and money. Prep Dish is offering our listeners a free 2-week trial of their Keto meal plan or their gluten free and paleo meal plans. To try Prep Dish free for 2 weeks go to prepdish.com/journey.
Beauty by Design is offering a personalized skin plan from a Licensed Esthetician and a free serum valued at $60 to attack your top skin concern, just pay shipping & handling. Go to beautybydesign.com/journeywomen and use promo code JOURNEYWOMEN.
FOR MORE OF JOURNEYWOMEN:
Our prayer is that Journeywomen will serve as a resource as you share conversations with women about glorifying God through their own spiritual journey.
* Affiliate links used are used where appropriate.
Thank you for supporting the products that support Journeywomen! *